It's summertime ya'll!!!  Although I am not a fan of heat and humidity and I am HUGE fan of music and cookouts.  I'm definitely going to get the side eye from Hubby on a couple of these but, I'm used to it.  I still be like…..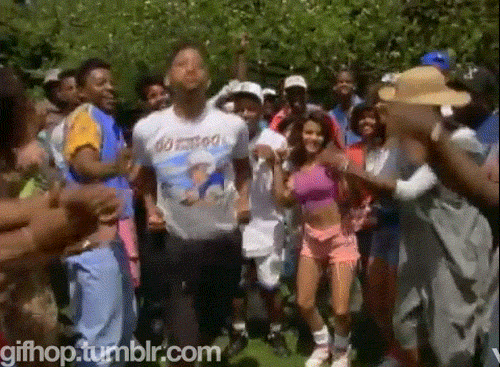 Anyway!!! LOL click the Link in the title to launch Spotify or, if you're a weirdo like me scroll down to see the complete list.
So with no further ado here is my…..
Brown Sugar and Spice Cookout Playlist
Summer Madness – Kool and the Gang
Summertime – DJ Jazzy Jeff and The Fresh Prince
Lovely Day – Bill Withers
Feels like Summer – Childish Gambino
Party – Beyonce and Andre 3000
One Thing – Amerie
Pump It Up – Joe Budden
Boo'd Up – Ella Mai
Umbrella – Rihanna
Party Up – DMX
Before I Let Go – Frankie Beverly (Sorry Bey! LOL )
The Seed 2.0 – The Roots
Alright – Kendrick Lamar
It Was a Good Day – Ice Cube
Drop It Like its Hot Remix – Snoop Dogg
Right Here – SWV
Hey Mr. DJ – Zhane
Feels Good – Tony! Toni! Tone!
Summer Breeze – Isley Brothers
Golden – Jill Scott
Redbone – Childish Gamibino
Touch It – Busta Rhymes
Just Friends – Musiq Soulchild
Candy Rain – Soul For Real
Got To Give It Up Pt. 1– Marvin Gaye
Bustin' Lose – Chuck Brown and the Soul Searchers (Or just play this on a loop)
Da Butt – EU
We Found Love – Rihanna
Hot in Herre – Nelly (Hubby's gonna hate me for this one!)
Good Life – Kanye West (Probably this one too)
Super Bass – Nicki Minaj
The Light – Common
Hey Ya! – Outkast
One Two Step – Ciara and Missy
How'd I do ya'll?  What's on your summer playlist?