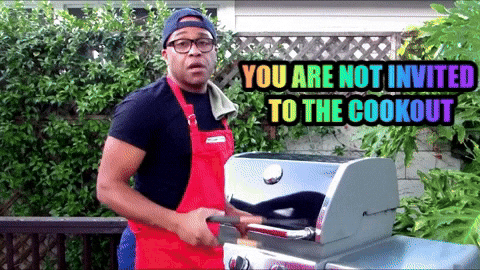 I hope you are all fully recovered from Memorial Day Weekend.  My plan was to have a super laid back weekend of straight grillin' and chillin' with my fam and then…..my phone rang Sunday night. 
 
The conversation went a little something like this….

Big Mary (some may call her my mother): I heard you're having a cookout tomorrow. 
Me: Nope…Not me.   Where'd you get that from?
Big Mary:  I heard it from someone so what do you want me to bring?
 
By this time I am shocked, confused and angry that someone would accuse me of such nonsense when I was clearly laying low on purpose. 
 
Me: I ain't having no damn cookout.  Goodbye. 
Also Me:  Looks over at my husband and asks if we can have a small cookout tomorrow. 
SMDH  the man is a saint. 
 
After calling Big Mary back and inviting her to my cookout that I hadn't planned until 30 seconds before I checked the fridge and began planning.   In the fridge we had one whole chicken and some beef ribs, which we did indeed plan to grill the next day.  We'd definitely need more than that to keep out reputations in tact.
 
First thing in the morning we had our game plan and shopping list.  First stop, Aldi of course. 
We decided to supplement what we already had at home to save some money.
All told, we spent about $30 on Monday morning…not bad.
Next stop, refill our Propane tanks…. We read that you can get 25% more propane for a refill than if you exchange your tank. We decided to give it a shot and see how long the tanks last. I'll keep you guys posted!
With this done we went home and got prepping.  We decided to brine the chicken in buttermilk using a recipe similar to this one.   We smoked them for 45 minutes in our Char-Broil Simple Smoker
.  Hubby seasoned the ribs using this recipe and cooked them in the Instant Pot
for 20 minutes.   After that, it was super simple.  We got it all done in 2 hours. 
Big Mary, my Dad, my nieces and sister were happy and well fed. My Mom said she was so glad she didn't have to slave over a stove and that she had planned to try that same "I heard you were having a cookout" shit on everyone until she got a sucker…she just didn't think I'd be the one to fall for it. FML.
Never again.